Summary
The goal was to create a graphic that mainly used type as a means to communicate a "call to action" speaking for any cause we found appropriate. After concepting and user testing my ideas, I picked the issue of fast fashion as my cause and created a physical sculpture which was then photographed to take shape as my call to action.
Type
Graphic Design
Duration
Jul - Oct '22
Client
Myself
Role
Designer
Project Poster

Background
This might be an odd one to include in a portfolio, but this project played a big part in contributing to my visual practice as a designer. I never used to feel like I had very strong visual design skills, I was not a trained graphic designer but I longed for the skills to be able to communicate my ideas and passion effectively. This project was exactly what I needed!

Cause
After speaking with several peers, I picked a topic that sat close to me and one I felt a strong connection to.

The growing problem of fast fashion
As someone who takes great care in what they wear and where it is sourced, along with great concern for the wellbeing of people and this planet, fast fashion was an obvious pick.
Process
I went with a play on words related to the cause - "Slow down fast fashion" as an attempt to reference how the fast nature of fast fashion is the damaging part which leaves people treated poorly, unsustainable materials being extracted poorly and a low quality inevitably being produced in the end. After taking inspiration from the Present Tense project I attempted to draft a set of digital drafts but none left me overly inspired.

I tested my concepts with friends and family, seeing which ones. sparked the best response. Gaining their feedback helped refine my visual until I approached Sarah Maxey who suggested I move to a physical medium. I had no prior experience when handling textiles asides from a brief encounter in school where I was able to sew together a cushion which painted the iTunes logo on (because music is was my life!!!).  

After concepting up a few different ideas feedback was gathered from my peers. I did not want to contribute to the very cause I was protesting, so I went down to the local fabric store and asked for a few of their offcuts - bit's of material that they had no real use for and would either recycle or throw out.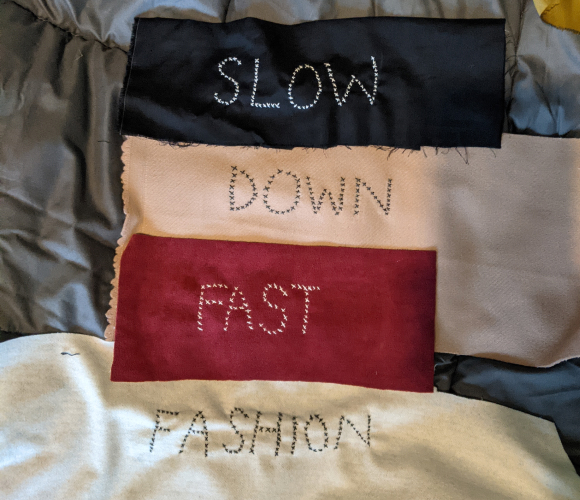 I jumped over to youtube and learned how to embroid. Over the next few days a lot of trial and error was involved but thank goodness I received guidance from my partner and my flatmate. Once I had the all parts I began setting up the sculpture to be photographed.
Final Piece
Incorporating other elements like coffee and water to rough up the materials and give the visuals more texture.The picture was snapped, then certain elements were upscaled and lightly touched areas to bring out more of the grittiness and contrast to land on the final product.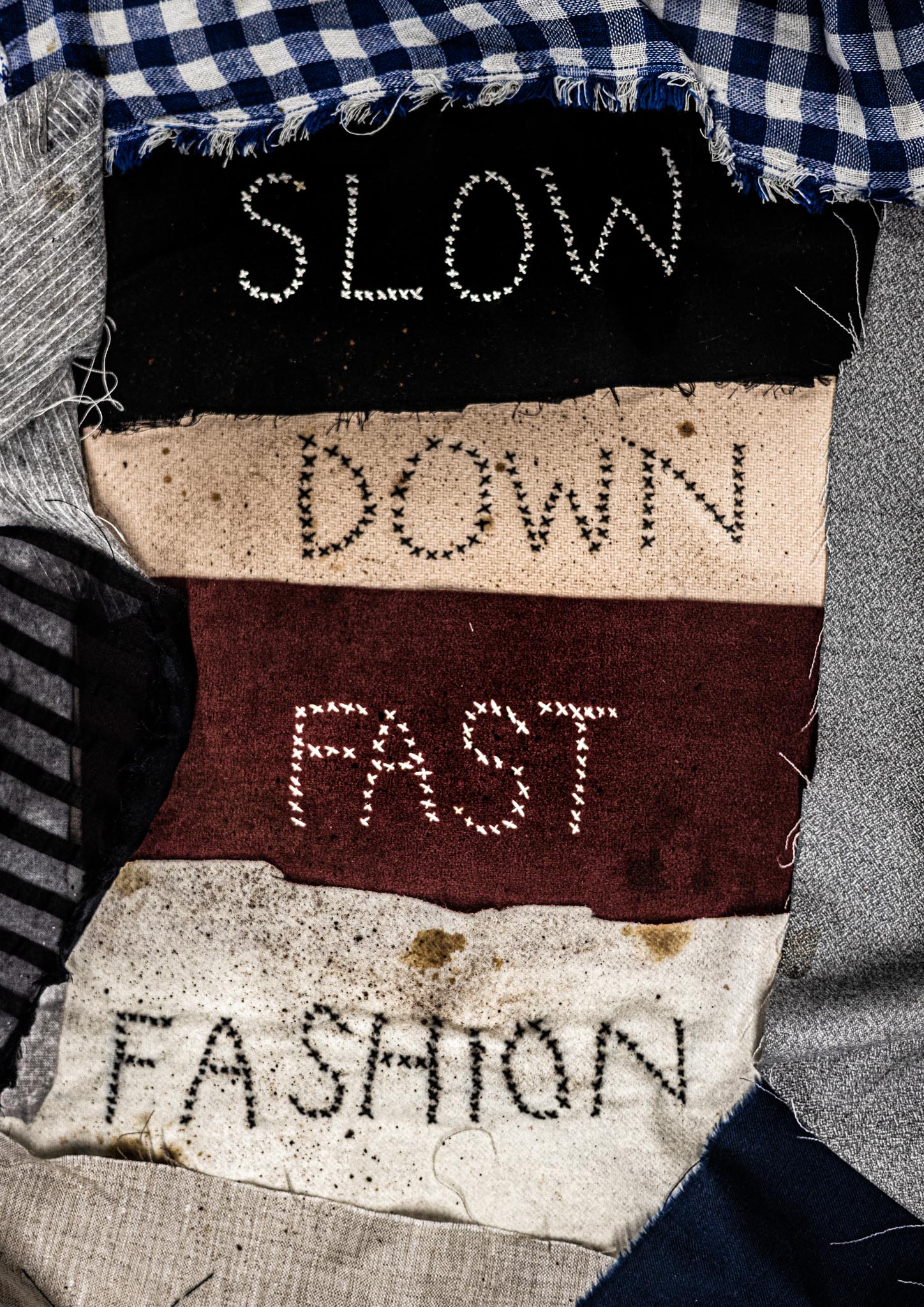 I then went and printed it out as an A1 sized poster and it was so nice seeing all the details within each piece of fabric and fibre being blown up to such a high scale. The piece felt powerful.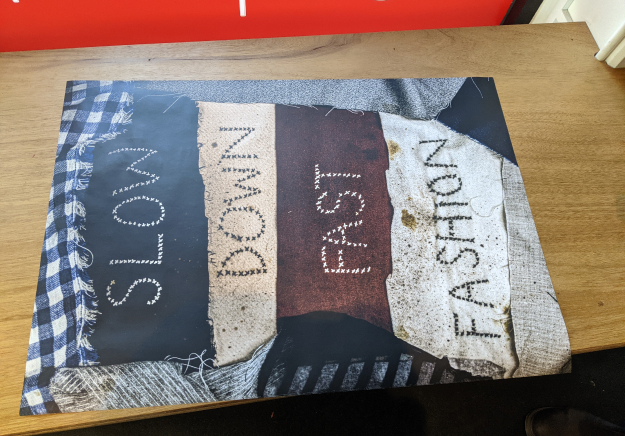 Reflection
I was able to branch outside of my comfort zone, learn new skills and then apply them to something new. The feedback and critique I gathered from my peers on the way was incredibly valuable and made sure to consider it all and use it to improve my design appropriately.

Applying UX concepts like user testing and iteration (which isn't exactly UX exclusive), it felt like I was able to find a very productive middle ground between graphic design and UX truly making this effective UX which I knew would speak to a cause.

Next time I would try to venture out even more to incorporate different types of textile crafts. Potentially engage with people affected by fast fashion as a process as well to take account their perspectives and concerns.